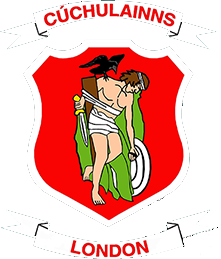 Great wins for both the Hurling and Football teams yesterday.
Our hurlers won 1-10 to 1-6 against Thomas McCurtains in the Ronan Cup (see Match Report on our club website).
Our footballers won 0-17 to 0-6 against Tír Chonaill Gaels (English Born Players) in the McArdle Cup.
A good night was then had by all back at the Station Pub in Hither Green which is run by one of our main club members, James McLoughlin - a big thank you to James for the use of his pub and for his support and contribution to the prizes last night. Thanks also to Michael Fitzpatrick for becoming one of our members/sponsors last night and for contributing to the prizes for the raffle as well.
Keith McGovern then showed us all his skills as an auctioneer raising £480 for last night's Auction Race alone, half of which goes to the Cuchulainns Club coffers together with all the Tote, Race Card, and Raffle money that was raised last night - a rough estimate is that we made about £1,100 from the Race night in total, so well done to everyone for turning up last night and showing your support - a good night was had by all.
And to finish things off, our Auction Race winner, Mick Rogers, sang us out in fine style - a man of many talents!