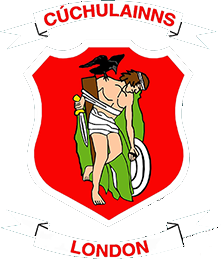 Cú Chulainns GAA club would like to offer our deepest sympathies to the family of Jim O'Brien, originally from Herbertstown, Co. Limerick who passed away last week aged 94 years.
Jim was pre-deceased by 5 of his bothers Tom, Jack, Ned, Phil, and Joe and survived by Pakie, Willie and sister Alice. All of the O'Brien brothers played hurling with Ballybricken and some later with Herbertstown.
On coming to London, Jim joined the air force and with five of his brothers played with Cú Chulainns of London. The teams full-back line was a family affair with Jim, Ned and Pakie playing many big games for the Cú Chulainns including many at Mitcham stadium in the 1950's and winning a senior championship with the club in 1951/2. These were glory days for Cú Chulainns.
Jim will be laid to rest beside his late wife Eileen at Gunnersbury Cemetery on July 3rd 2020. The Cú Chulainns club would pass the deepest sympathy to Pakie Willie, Alice and Jim's sons and their families.
Ar Dheas Dé go raibh a anam a Séamus