A Great Result For CuChulainns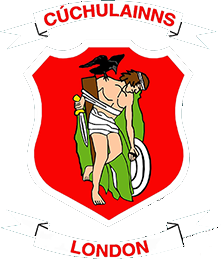 Result: Intermediate football championship rd 3. CuChulainns 2.11 Garryowen 1.12 Next up semi final next weekend! Exact date and time TBC. CuChulainns and Garryowen faced off in a very warm Ruislip on Saturday 2nd September at 3pm in the Intermediate football championship rd3. The prize for the victors was a place in the semi final to be held the following weekend. This ensured a very tight contest between the 2 teams from start to finish. CuChulainns started strongest and lead in the first few minutes through points from Brendan Breen and Fiachra McArdle. This was a lead they would fail to relinquish despite massive pressure from Garryowen until the full time whistle. A goal midway through the second half from McArdle put CuChulainns in a comfortable 1.04 to 0.02 lead. Garryowen however battled back strong and got a goal through an Eoin Murry penalty to have the sides 1.05 to 1.04 just before half time. 2 late points by Brendan Breen and Cianan Byrne saw CuChulainns go in at half time ahead 1.07 to 1.04.
CuChulainns again started brightest in the 2nd half but some wayward shooting resulted in a few wides. Garryowen started picking off points through the boot of Eoin Murry frees and James Brennan. CuChulainns responded with 2 further points from play by McArdle and appeared to seal victory with a goal through a great finish by Anthony Tighe. Garryowen never gave up however and took the game to CuChulainns with points through Murry, Phelan, Larkin and Brennan. CuChulainns kept in the frame with a point from a great break forward from centre back Ciaran Boyle. A late Darren McManus point again put two points between the teams. The following attack from Garryowen was broken down by CuChulainns as they went in search of a goal and resulted in referee Ger O Sheas final whistle. CuChulainns now move on to a semi final next weekend as Garryowen bowed gracefully out of championship for another year.
Referee; Ger O Shea
CuChulainns team
1. Sean Moloney
2. Conor Harrington
3. Gary Walsh
4. Camillus Donnelly
5. Conan O Brien
6. Ciaran Boyle
18. Niall Gunning
8. Ger Byrne
9. Cianan Byrne
10. Anthony Tighe
11. Darren McManus
12. Conor Donnellan
13. Kyle Feehily
14. Brendan Breen
15. Fiachra McArdle
Subs; Sean Dirranne for Niall Gunning, Brian McVeigh for Conor Donnellan (black card)
Scorers: Fiachra McArdle 1.04 (0.01 free) Ciaran Boyle, Darren McManus, Ger Byrne (each 0.01) Anthony Tighe 1.00, Brendan Breen, Cianan Byrne (both 0.02)
Garryowen team
1. Luke Wallace
2. Hughie Molloy
3. Barry O Donnell
4. Robert O Connor
5. Michael Sweeney
6. Ciaran Dunne
7. David Carribine
8. Noel Kerins
9. Dylan Salter
10. Eanna Kennedy
11. Mark Brennan
12. Eoin Murry
13. Christy Burke
14. James Brennan
20. Cian Doyle
Subs; Ciaran Larkin for Eanna Kennedy (inj), Jack Phelan for Christy Burke, Mark O Sullivan for Cian Doyle
Scorers; Eoin Murry 1.07 (0.5 F, 1.0 pen), Ciaran Larkin, James Brennan (both 0.02), Eanna Kennedy 0.01